Indoor plants and living walls are environmentally friendly, aesthetically pleasing and improve health and well-being.
---
Some of the links in this post are partner/ambassador/affiliate links. Please read our Partner, Ambassador and Affiliate disclaimer for more info. Sharing is caring!
---
Indoor plants and living walls are becoming more and more popular. But indoor gardening is not one of those trends that will fade quickly. It's here to last and with good reason, as it's proven how houseplants improve health and well-being in many ways.
Let's explore the top 9 benefits of living and working surrounded by greenspaces:
1. Better air
Plants reduce CO2 levels by 10 to 25% and remove significant quantities of VOCs from the air. More in details, 1 m2 of plants and living walls extracts 2.3 kg of CO2 per annum from the air and produces 1.7 kg of oxygen. Therefore they contribute to air purification.
2. Better acoustics
Plants absorb, diffract and reflect sound. So adding plants to a room can change its acoustic dramatically. Studies show that a green wall absorbs 41% more noise than a traditional wall, making the room much quieter. This means that ambient noise can be halved by including plants in your design.
3. Powerful healing environment
Greenery encourages fast recovery, reduce stress and boosts the mood. Certainly a green environment improves your tolerance of pain, that's why it's known as a 'healing environment'.
4. Health and wellbeing
Greenery offers relaxation and reduces stress. Therefore being connected with nature improves our health, wellbeing and productivity. Furthermore, natural shapes, textures and colours can all impact our sense of wellbeing.
5. Productivity and creativity
Having views of plants highly increase our productivity and creativity. Clearly plants are natural air-filters. A cleaner air creates a more invigorating work environment, and as a result employees' health and production will overall increase.
6. Art
Plant and living walls can be awesome pieces of art that transform the feeling of a room. Since the 1970s, living walls have successfullyadded interest and elegance to interiors around the world. They are testimonial to excellent design, plant selection, innovation, and plant care in horticulture.
7. Workplace satisfaction
Psychologists have found that adding some green indoor can improve employee satisfaction and can increase productivity by up to 15%.
8. Add value to your brand
Combined with a decrease in energy costs, the natural and sustainable look of your work space may be seen as a symbol of your environmental and social performance. This has proven to lead to an improved brand image, happier shareholders, increased productivity, and countless more benefits.
9. More social interaction
Working and living in a green environment brings people together. Most importantly it is known that 'small scale greenery' in particular has a positive effect on social cohesion.
As indoor plants can make a difference in our life, we can make a difference in the lives of 10,000 artisans and their families by choosing ethically-sourced products.
As indoor plants can make a difference in our environment, we can return the favor to the Earth by using products that are locally sourced, recycled and made with renewable materials.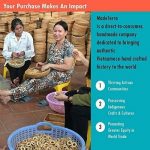 We're proud to collaborate with a company whose mission is to preserve the craft tradition and create opportunities for Vietnamese artisans: MadeTerra brings artisans' products and stories to the world through long-term, fair trading relationships.
Join us in making a difference and reaching this goal!
Check MadeTerra products and enjoy their awesome products!