How to build a wooden house? Check this fast and easy way!
---
Some of the links in this post are partner/ambassador/affiliate links. Please read our Partner, Ambassador and Affiliate disclaimer for more info. Sharing is caring!
---
The next spare week you have, you can build your own house with a Lego-like technique. 
With the growing costs of new houses and increasing knowledge of constructing eco-sustainable buildings, a Belgian start-up offers a quick and effective kit house system.
Gablok is specialized in insulated formwork blocks for self-build project.
They provide a revolutionary construction method using insulated wooden blocks, a customized floor system as well as insulated beams and lintels that allow you to build your wooden house's exterior and interior walls. 
Here is how it works:
They offer to design your plans using their method and, once completed, you'll get an installation guide outlining all the steps to ensure the success of your project.
The Gablok kit includes all materials needed for the construction of your shell (except for the roof and the foundation slab) and their technical team will support you if you need help with the assembly of your house.
Modular housing is a pressing issue today and this method can dramatically improve efficiency in construction. 
Good design requires knowledge of modular manufacturing, installation and interface issues as well as understanding the economics and customer-related benefits that influence design decisions.
Want to warm up with a smaller project?
If you're not ready to step into such a project, you can still spend your weekend on a DIY timber structure and build a shed. You just need a detail plan and maybe a couple of friends to help.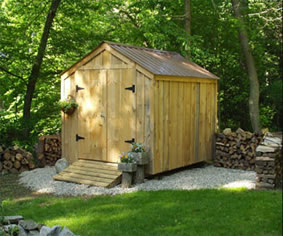 Ready to go this way? Great! So Ryan Henderson is the guy for you! He's a professional craftsman and educator. He designed a variety of shed plans to help DIYer like you build any kind shed at home following a step-by-step process.
Ryan has collected of 12,000 shed plans with different styles and designs. You don't need to be a pro or have woodworking experience to use them, as they're very detailed and come with "hold-you-by-the-hand" instructions.
You can check out Ryan's collection here, but before going…