Some of the links in this post are affiliate links. Please read our Affiliate disclaimer for more info. Sharing is caring!
Our planet is dying. At this point, the only thing we can do is try to slow the process down. One of the most achievable and effective ways to do so is to live a more sustainable lifestyle.
Living sustainably can be too major a change for most people, but you can start small by adopting an energy-efficient mindset.
Start changing your habits and choosing energy saving products to reduce your energy consumption and utility bills as a result.
Where do you begin?
Today, we'll walk you through some of the most popular energy-saving products on the market.
We will also include our recommendations for the best in each category to help create a clearer path toward energy conservation.
Top 10 Energy Saving Products for Your Home
When you do an energy assessment of your home, you may find that many of your current appliances are vampire appliances.
These things consume excessive energy and suck your wallet dry even while on standby power.
You may find it costly to replace traditional intensive-energy-consuming appliances with tiered or Energy Star products.
That said, the amount they help put into your energy savings more than makes up for their upfront cost.
Here are 10 energy saving products to help you accomplish your energy goals for 2023 and beyond!
1. Smart Thermostats
Smart thermostats are a type of programmable thermostat that comes with more advanced features.
Aside from allowing you to operate them from virtually anywhere with Wi-Fi, they also come with indicators for when parts of your HVAC systems need to be replaced.
Considering that heating & cooling systems are the household's major energy consumers, using a smart thermostat could significantly impact your energy efficiency efforts.
Smart thermostats are a lot more convenient than programmable thermostats because of their internet connectivity.
You can link them to your laptop or smartphone and operate them from there, even when you aren't at home.
There are tons of great models to choose from, each having their own unique additional features to showcase.
For this reason, smart thermostats have become some of the most popular devices for those looking to shift to a more energy-efficient lifestyle.
Energy Star Rated Thermostats
Smart thermostats with Energy Star and/or CEE advanced tier ratings are the best in the market.
They are also some of the most expensive, given their energy-efficient designs and advanced features.
High-tier models are smarter and can auto-adjust based on different circumstances that influence energy usage.
These include activities that take place indoors and the number of people living in the home.
As a result, you won't have to worry about energy wasting when operating your HVAC systems. 
Recommended Product: Google Nest Learning Thermostat
Why We Recommend It:
Can help you save as much as 20 percent on energy bills

User-friendly product you can control from virtually any viewport

Auto-adjusts temperature based on the circumstances that influence energy efficiency

Tracks your home's temperature at all times and informs you when a part of the HVAC system needs fixing or replacing
2. LED Light Bulbs
Like there are different categories of energy efficiency in products, there are also different degrees to which you can shift to a more energy-efficient way of living.
For instance, instead of going all-out and purchasing Energy Star-rated products, you can simply make the switch from incandescent lighting to LED lighting to reduce your energy bills.
Not only do LED light bulbs provide better, more energy-efficient lighting, but they are also significantly more durable than conventional lights.
Consider replacing your current energy-intensive-consuming lights with the more sustainable and environmentally friendly LED lights if you haven't already. 
That said, some LED lighting brands are better than others.
More often than not, the top brands stand out for their products' longer lifespan and better energy efficiency.
Although they are more expensive, picking them over lesser energy-efficient models is bound to pay off more in the long run.
Recommended product: Amazon Basics 60-Watt LED Bulbs
Why We Recommend It:
At least 15,000-hour lifespan

800 lumens of light

Comes with different lighting modes to suit different kinds of ambiance

Needs only 10 watts to run
3. Energy Monitors
An energy monitor is a great addition if you want to create a more energy-efficient household, as it helps keep track of appliances that use up the most energy.
Using data collected with the device, you can take the necessary steps to reduce that amount moving forward.
Collected data from energy monitors help you make more informed decisions when it comes to energy management.
Use it to alter your current energy consumption to a more efficient one that lets you save more on utility bills.
Choosing the best energy monitor models helps you better track your household's energy usage.
Not only are they smarter than the average energy monitor, but they also help you monitor changes and shifts in electricity in real-time. 
Recommended product: Sense Energy Monitor
Why We Recommend It:
Meets numerous appliance safety standards

Can be installed and operated within an electrical panel

Sends custom notifications for energy-waste-prone devices like sump pumps, well pumps, and flat irons

Lets you monitor even the slightest change in electricity consumption
4. Smart Switches
It happens to the best of us; we realize after several hours that we accidentally left the lights on in our rooms.
The smart switch has become one of the most effective solutions for dealing with these lapses.
Using this device, you can control your lights and appliances from anywhere in the home.
Some models come with a plug-in mount you can link with Alexa, Google Assistant, and Apple Homekit.
Recommended Product: Wemo Smart Plug
Why We Recommend It:
Provides wireless control of lights and other devices through Wi-Fi

Use the free Wemo app to set it up quickly and easily

Features an "Away Mode" for operating lights while you're not at home

Can be used with any electric socket
5. Electric Pressure Cookers
Standard pressure cookers tend to consume too much energy and take too long to cook.
Consider retiring that dinosaur in favor of an electric pressure cooker, which can cook food in a lot less time and doesn't lead to water and energy waste. 
These smart innovations also feature numerous settings for cooking rice, stew, and soups, which you can all cook in around half the time it would take with a traditional cooker. 
An electric pressure cooker is a great investment if you want to reduce your utility bills and put more money into your energy savings. 
Recommended Product: Cuckoo 8-in-1 Electric Pressure Cooker
Why We Recommend It:
Designed with superior stainless-steel pot

Auto steam-releasing technology

Can cook over 20 different meals

User-friendly with voice control

Customizable temperature and pressure levels
6. Motion Switches
When it comes to energy-saving opportunities, you will definitely make the right choice with motion switches. These devices let you switch your fans and lights on or off automatically.
What's great about a motion switch is that you won't need a neutral ground wire to use it.
Its PIR motion sensor "senses" when anyone comes into the room and turns the lights on automatically.
Similarly, it automatically switches the lights off the moment the room becomes unoccupied.  
With occupancy and vacancy sensors working in tandem, not only do you help reduce your energy budget but also get a safer and more secure home.
Recommended Product: TOPGREENER Motion Sensor Switch
Why We Recommend It:
Turns fans and lights on or off automatically to help you save on energy bills

Comes with different features, including motion sensitivity adjustment and vacancy and occupancy sensors

Lets you decide how long lights stay on
7. Solar Water Kettles
Electric water kettles use up a lot of energy. Hence, you may want to consider replacing them with their solar-powered versions to ease up on electricity consumption.
Using a solar kettle lets you be more energy efficient when heating water.
More often than not, water kettles that run on solar power are meant for outdoor use, but you can use them indoors, too.
They also aren't just for heating water; you can use them to prepare tea and cook rice, soup, stew, and noodles.
To preserve the heat inside, keep the kettle closed after you're done cooking.
This appliance will have your food ready to eat and your beverages ready to drink even after sundown.
Some of the better models are designed with borosilicate glass tubes and reflectors for absorbing max solar energy.
They also capture two to three times more power from the sun than ordinary models.
Lastly, these kettles are cool to the touch on the outside, so you don't have to worry about them burning you. 
Recommended Product: Solar Kettle Thermal Flask
Why We Recommend It:
Compact kettle that holds up to 500 mL of water

Runs completely on solar power

Highly portable and durable

Warms water between 20 minutes and under an hour, depending on the weather and the season
8. Tankless Water Heaters
As far as energy-saving devices go, tankless water heaters are some of the bests.
Water heating accounts for a considerable percentage of the U.S. household's total energy consumption.
Consider making the switch to a less energy-intensive-consuming water heater to reduce your utility bills.
Tankless water heaters are all about providing you and your family with endless hot water while maintaining performance and energy efficiency.
Some of the best models come with self-modulating technology to ensure less energy is used when heating water.
They also provide somewhere between two and five gallons of water per minute, so you don't have to worry about running out of hot water.
Unlike traditional water heaters, tankless water heaters, as their name suggests, do not keep water in tanks.
Instead, they heat water directly through the unit. This is the main reason why their supply of hot water is "endless."
The best things about them? You don't need to wait long for water to heat up, plus they take up a lot less space than their traditional counterparts. 
Recommended Product: EcoSmart Tankless Water Heater
Why We Recommend It:
Highly durable 

Comes with a lifetime warranty for residential use

Provides "unlimited" hot water

Features self-modulating technology that helps save more than 50 percent of energy costs from water heating
9. Heated Mattress Pads
Another major energy consumer in the household is heating systems.
They get their work cut out for them during winter when homeowners need to double down on their efforts to keep warm amid the freezing cold.
Instead of relying almost solely on heating systems to combat the winter chill and bring warmth into the home, why not turn down the thermostat and use heated mattress pads?
These "upgraded" blankets can save you from both the winter chill and sky-high energy bills.
The top products are designed with energy efficiency in mind and can rescue you from the winter cold without taking a toll on your energy bills like HVAC systems.
These pads will keep you warm and cozy, even with the thermostat set to low. 
The best heated mattress pads are also conducive to a good night's sleep, as they come with a host of features to help relax the body and muscles.
For instance, they come with controllers for you to choose your ideal heat level.
You can also set the device to auto-adjust heat levels throughout the night, depending on the outside temperatures.
Recommended Product: Sunbeam Heated Mattress Pad
Why We Recommend It:
Features various heat settings 

Comes with a pro controller for setting heat levels

Machine-washable and dryer-safe

Comes with a five-year warranty

Has an auto-off function
10. Smart Sprinklers
The main problem with conventional sprinklers is that even when your lawn no longer requires watering, these products will continue to irrigate.
That will cause you to waste both water and energy, which won't do the planet any good.
To give your turf the adequate watering it needs and save you from soaring utility bills at the same time, consider replacing your traditional sprinklers with smart sprinklers.
Some of the bestselling products on the market today feature an auto sprinkler system that prevents under- or over-watering of your lawn.
They also come with a controller that lets you control the sprinkler heads through an electric solenoid.
However, the true standout feature of the best brands is the watering schedule.
You can schedule the watering based on the type of plants, soil conditions, and other circumstances surrounding your lawn.
Plus, you can control these installations from anywhere with the use of your smartphone. 
Recommended Product: Rachio 3rd Generation Smart Sprinkler
Why We Recommend It:
Lets you save up to 50 percent on monthly water bills

Doesn't water your lawn when it's raining

Helps you save energy and money

Easy installation 

Compatible with most automatic sprinkler systems

Schedules waterings based on lawn's specific requirements
Your Guide To Buying Energy-Saving Products
We know you're excited to make the shift to a more energy-efficient way of living.
Before you pick out the products to help you do that, you need to go over the following considerations first:
Operating Cost
Your main purpose is to become energy efficient, so determine the monthly operating costs and compare that with the operating costs of the appliance you are looking to replace.
Naturally, you want the OC of this new device to be considerably lower because you are hoping to reduce your monthly energy bills.
Energy Rating
Next up is to check the product's energy rating.
The best brands typically use the CEE Advanced Tier and Energy Star rating to score products based on energy efficiency.
However, these products can also be rated from Tiers 1 through 4, which are the lower categories for energy efficiency.
Note that the higher you go up this ladder, the better and more expensive the products tend to get.
Size
Size matters even when you're choosing an energy-efficient product. That's because the larger the machine, the more electricity it consumes.
Choose a bigger appliance than you need, and you won't be as energy efficient as you want. 
Economy
In the name of saving money and energy, opt for economic choices. For instance, a lot of washing offers a variety of different cycles.
Choose a model with an economy cycle so that you can cut back on both your water and electricity bills when washing a small load of laundry.
Simplicity
The less complicated a product, the less energy it tends to need to operate. That's because there will be few advanced features and mostly the basics to run.
For example, you can pick a quality smart oven, but don't go for the self-cleaning one because it will consume more energy.
The same goes for freezers. You will want to opt for the more energy-saving top-to-bottom models as opposed to the less economical side-by-side ones.
Do your research or, better yet, get in touch with the manufacturers.
They may be able to program your choice of appliances to run on less energy, depending on your usage or the time of day.
Your Home
Your energy-efficient products will only be as energy efficient as your home allows them to.
If you have doubts about your home's conduciveness to energy efficiency, have an expert evaluate your home to see if it will suit your new way of living.
You may need to make a few home improvements before you can start buying specific energy-saving products. 
Compare Before Buying
Most of the time, it's not a good idea to purchase the first model you see. This is especially true if you are not too familiar with the energy efficiency industry.
Some products are better for you than others.
Just because an energy-smart appliance got rave reviews from a friend doesn't mean there won't be a better product out there for you.
While you and other energy conservationists share a common goal of saving energy, that doesn't mean your specific circumstances surrounding this goal are the same.
Ultimately, you should pick a product that fits your and your family's needs.
It has to meet your specific requirements, particularly the pace at which you want to transition into energy efficiency.
After all, not everyone is comfortable with going all in from the get-go. These things take some getting used to.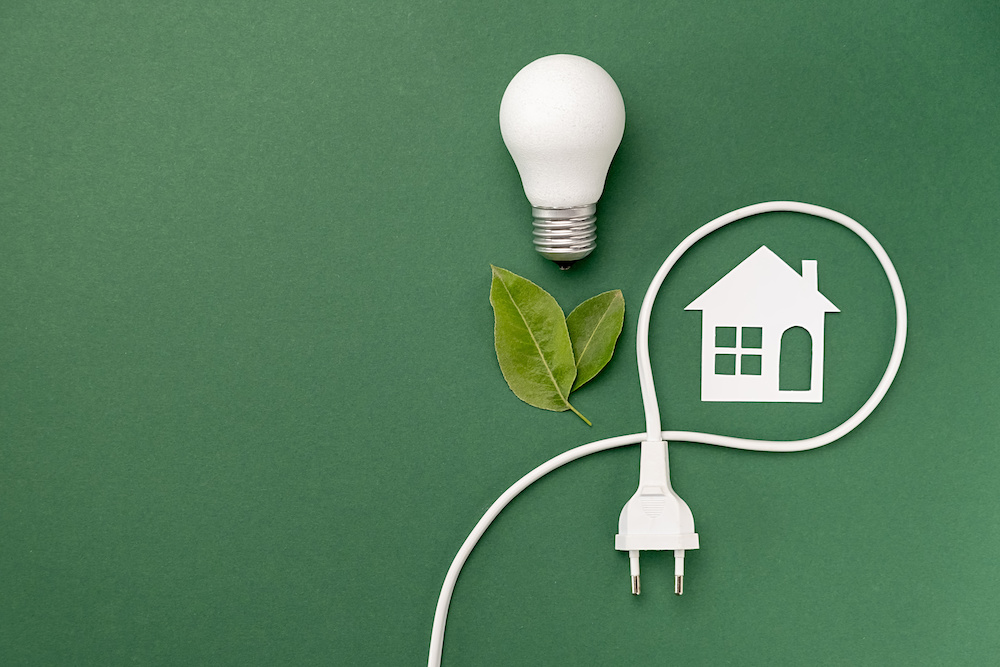 Energy-Saving Products FAQs
1. What is an energy-efficient product?
An energy-efficient product is a money-saving and energy-smart version of a same-functioning non-energy-efficient alternative on the market.
For example, there are traditional incandescent light bulbs and LED light bulbs.
Other examples are manual light switches and smart switches or motion sensor switches.
These products don't necessarily have more advanced features than their conventional counterparts. However, they do eliminate most forms of energy wasting in their design. 
2. Why purchase a product that is energy efficient?
These products are designed to reduce your household's overall consumption of energy, lowering your utility bills as a result.
That could also mean more money put into energy savings.
Yes, these products tend to cost you more upfront. Even so, their benefits in the form of bigger energy savings and less carbon footprint should more than make up for that.
3. What features should you look for in energy-efficient products?
Since there are so many energy-saving products to choose from, there are tons of factors to consider when choosing them.
Thus, when you have an appliance or device in mind, make sure to research other brands that offer the same products.
Compare the different models within a brand and across brands to see which suits your energy efficiency needs best. 
4. What is the most cost-effective energy-saving product?
If you've only just adopted an energy-efficient lifestyle, one of the easiest ways to start your journey is to switch your traditional incandescent lighting system with an LED lighting system.
Not only is this an affordable move, but you can also literally feel the difference within a month in terms of its aesthetic and energy-saving benefits.
5. Is it more expensive to buy products with more energy efficiency?
Most of the time, yes, especially if we're talking about CEE advanced tier and Energy Star-rated products.
As we said before, the money you put into buying these products is more than worth the energy efficiency, durability, and performance they provide.
What Are the Best Energy-Saving Products To Buy?
One of the most effective ways to save energy in the household is to adopt smart technology.
All the products we listed feature this kind of technology, which is why they are significantly more energy efficient than the traditional appliances you may have at home.
Start making the shift today!
As stewards of the environment, it is our job to take care of it the best way we can. Begin by adopting an energy-efficient mindset and making smarter product choices.
Not only do you save yourself from sky-high energy bills by doing so, but you also contribute to saving Mother Earth in your own little way.